New England Railroad Rolling Stock Sampler

Montreal, Maine & Atlantic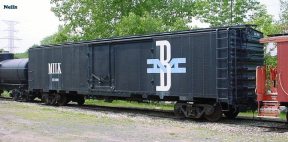 B&M McGinnis logo milk car (2004 CT)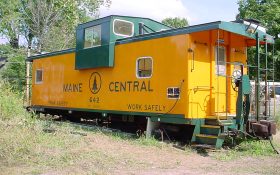 Maine Central caboose #642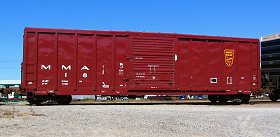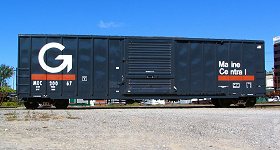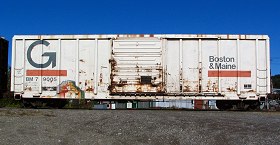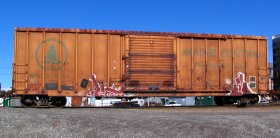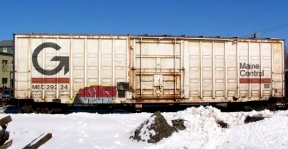 This page was last updated on: December 26, 2014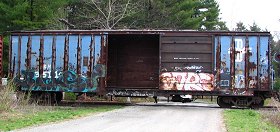 B&M small McGinnis logo (Ayer 2005)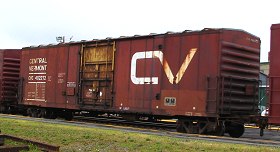 Central Vermont boxcar (Ayer MA 2005)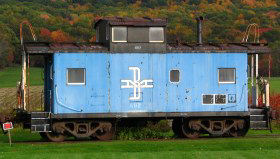 B&M caboose #482 (S Deerfield MA 2005)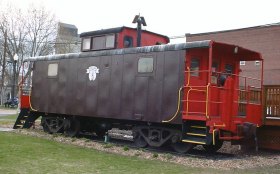 Steel B&M caboose (Greenfield MA 2005)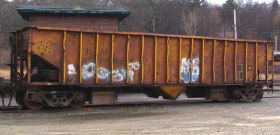 Vintage Yellow B&M MOW hopper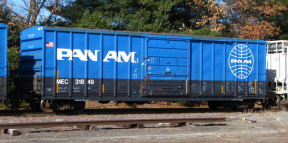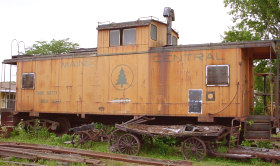 Maine Central caboose (Canaan CT)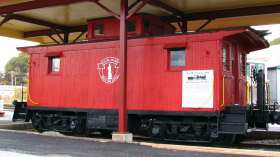 Wood B&M caboose (White River Jct VT)

B&M cement hopper (2006 Ayer MA)

PanAm "Blue Dip" Text Side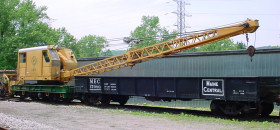 Maine Central 40' gondola (CT)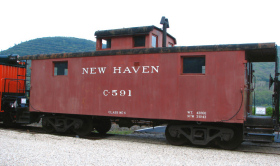 New Haven Caboose C-591 (Lenox MA 2006)

Guilford had two paint schemes for their boxcars.  The first was white with the gray "G" and orange stripe.  The second was the same gray as their locomotives with a white "G" and orange stripe.

The Guilford schemes were followed by a new Pan Am gray/blue one after the railroad changed their name.   It featured the classic globe logo from the airline on both sides, BUT the text logo only on ONE side!  In 2012 some cars were painted in a solid medium blue "dip" to match the Pan Am locomotives.  At first, they appeared with no logos.  Slowly some showed up with logos.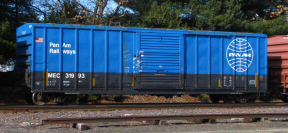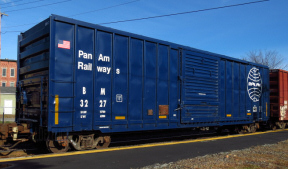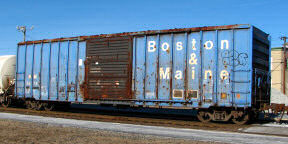 Last B&M boxcar logo scheme

As with most older railroads, Boston & Maine's first cars were usually painted "boxcar red" or something similar.  They went from a square text logo, to the classic Minuteman logo, then on to the love-it-or-hate-it McGinnis blue schemes.  The last versions were simple block text.