Boston & Maine / MBTA Station

-- Belmont Center, Massachusetts --

Built 1908


This bridge is just east of the station and was built in 1907 to eliminate the old grade crossing that once existed here.  The current station building came in 1908.  In 2015, the bridge received it's very first cleaning, and it now displays it's original granite color.

All original photos and commentary © Jonelle DeFelice 2003-2020 unless noted otherwise.

Please DO NOT COPY unless with permission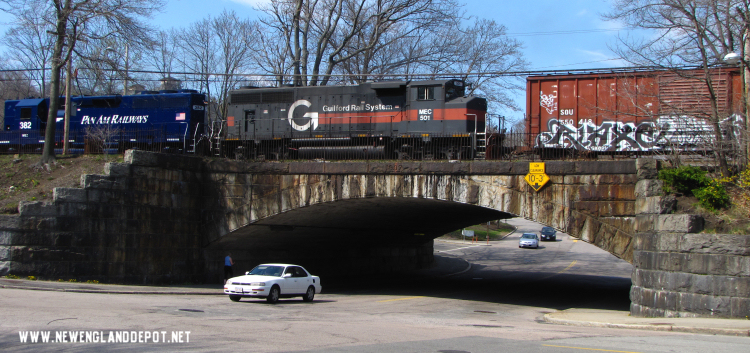 On April 4, 2010, a very rare freight train passed through Belmont.  Pan Am train WASE (Waterville ME to Selkirk NY) was detoured through town.

An extremely rare non-commuter passenger train move, the 2013 High Iron excursion from Boston to Mechanicville heading east to Boston on 4/12/13.  The next day, the train went west with it's paying riders.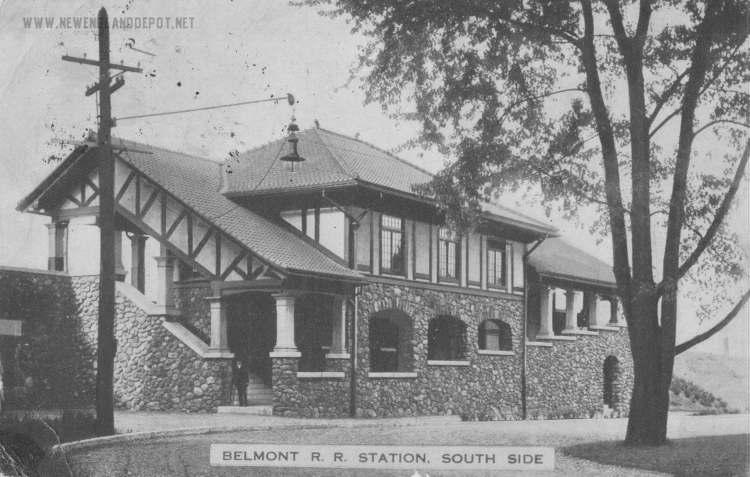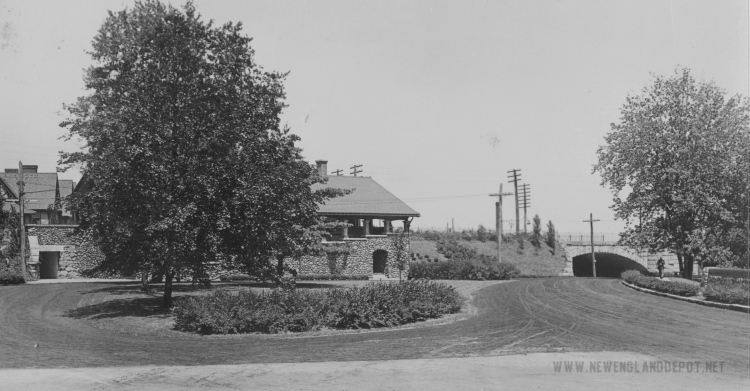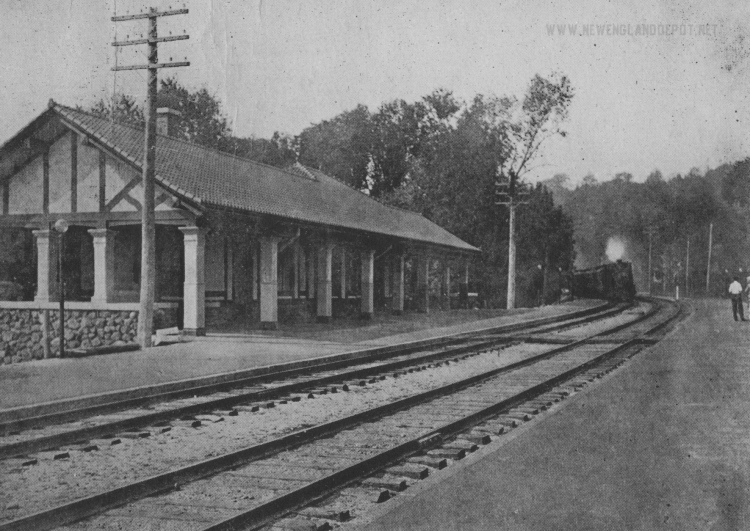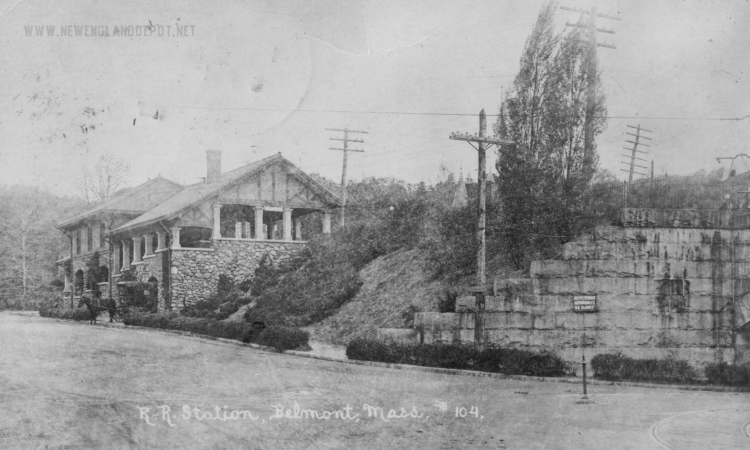 Today the MBTA station at Belmont Center is a local landmark.  Owned by the Lion's Club, it has been slightly altered since it ceased being used as an actual station building.  But the exterior still retains much of it's original detailing. 

Originally the railroad crossed Concord Avenue at grade.  Newspaper reports claimed that over a span of 30 years, there were many fatalities. 

No doubt few modern commuters realize while standing on the platforms, waiting for their east or westbound trains, that there used to be a second railroad line right where they stand.  The Central Massachusetts shared the ROW grade from roughly West Cambridge/Hill's Crossing to Waltham, just west of Clematis Brook.  The rails were on the Center side of the ROW (north).  There were two stations, one for each railroad.  Eventually, the Central Mass became a branch of the B&M, and by 1908, after elimination of the Concord Ave. grade crossing, the CM structure was gone.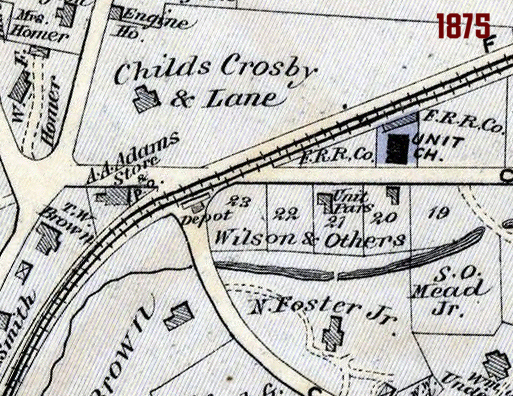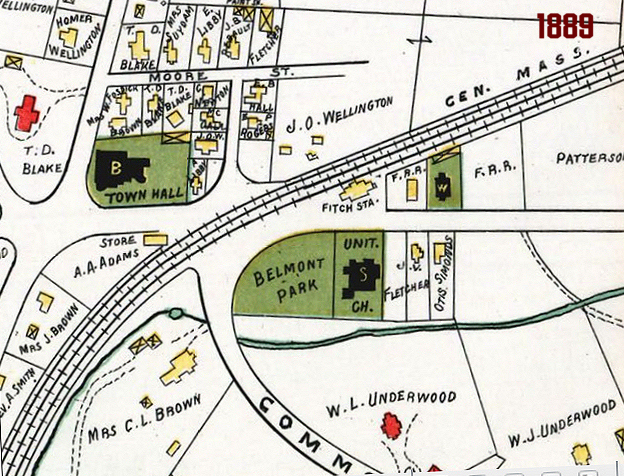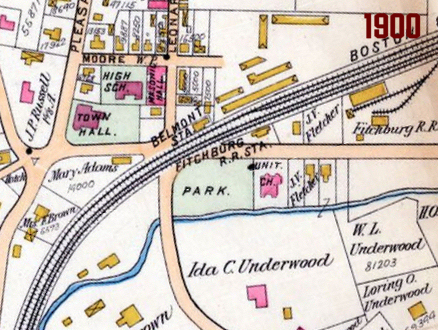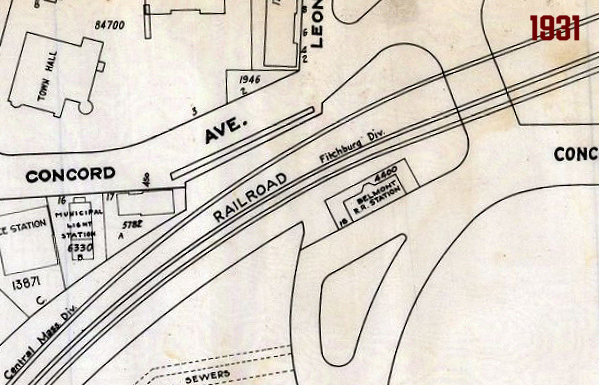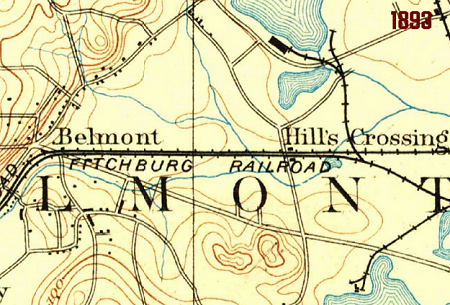 These maps show how the station area changed over the years. 

In 1875, before the Central Massachusetts line was built, we see two tracks, Concord Ave. cutting straight across at grade, and one station on the junction with Common Street.

By 1889, the Central Mass was running along the Fitchburg line, no doubt making the grade crossing even more dangerous.  Notice the station has moved slightly east.

The 1900 view is pretty much the same, with the addition of the Central Mass station on the north side of the tracks.  Notice also a switch to a fourth track.

The 1931 assesor view shows the area after the 1907 elimination of the grade crossing.  While not very detailed, it is more accurate than the other views.